Colored Contact Lenses and Eye Color Changing Naturally
Undoubtedly, colored eye contact lenses are designed to rest on the cornea. Equilibrium is achieved by the adhesion of the tear film, which covers mainly the anterior part of the eye, and a bit of adjustment by the pressure of the eyelids. Surprisingly, colored contact lenses are now the most popular aesthetic device. Furthermore, colored contact lenses are not as innocent and harmless as previously thought. Long-term use causes irreversible corneal damage. They keep using it because they believe they have no choice but to look. Actually, there is a long-term solution. The laser eye color change procedure guarantees a permanent and healthy change in the color of your eyes. In summary, eye color changing naturally, which is slowly becoming popular, seems to have its eye on the throne of contact lenses.
You may simply change or improve your natural eye color using colored contact lenses. Non-prescription colored contact lenses are used solely for aesthetic purposes, whereas prescription colored contact lenses correct ametropia. There is a vast assortment of contact lenses in various colors.
Contact lenses , like glasses , are visual aids and correct visual deficiencies but also cosmetic
They are placed on the eye or tear film using the fingertips and can therefore correct all common ametropias. This eliminates the need for eyeglasses and makes contact lenses both functional and fashionable. As with eyeglasses, contact lenses are designed to correct visual impairments such as near- and far-sightedness.
In contrast to eyeglasses, contact lenses are worn directly on the eye and are therefore nearly undetectable to the naked eye. As a result, they are extremely popular among athletes and fashion-conscious individuals.
For the latter, there are also so-called cosmetic or colored contact lenses available, such as those resembling snakes or huge animals, which serve less of a medical purpose and more as "attention-getters."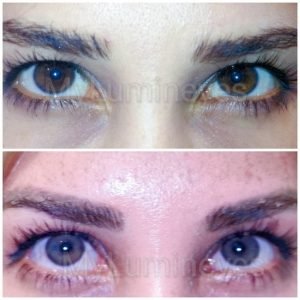 Using of  Colored Contact Lenses
Wearing colored contact lenses correctly is really very important for your eye health.If you find your natural eye color uninteresting, coloured contact lenses can assist. Even rarer are so-called motif lenses, which are more of a party prank and are worn only on special occasions such as Halloween or carnival. However, the colored lenses share a common trait: they have a poor reputation. The accusation is that colored glasses are hazardous to health because they prevent sufficient oxygen from reaching the eyes. Here you can determine the compatibility of the coloured accessories.
As the eye opens and closes, the eyelid slides over the surface of the colored contact lenses,causing it to move slightly forward. This action helps provide the necessary lubrication and wash away deposits.Be careful; a lens that is too tight will not move at all.It may cause eye sensitivity. The user may be comfortable, but the visual acuity is poor. It can cause complications in the long run.A lens that is too loose will move excessively. The lower eyelid lens has a lot of sensation. After blinking, the image becomes blurred. The lens is off-center. The lens edges can be bent and your cornea will be damaged. 
Hygiene is crucial while handling contact lenses:
When it comes to colored contact lenses or motif lenses, proper hygiene is the only thing that matters.
People with normal vision who have never worn contact lenses before frequently request colored contact lenses. It is often difficult to appropriately insert and remove contact lenses. Basic hygiene practices are not followed, and glasses are replaced without being fully disinfected.
Pay attention to the oxygen supply of the eyes:
the quality of the colorful accessories and the length of time you wear them will determine if they cause damage to your eyes. Always soft lenses are colored contact lenses. These lenses allow less oxygen to reach the eye than hard lenses. This can accelerate the drying of your eyes.
Important instructions for colored contact lenses
Before handling the lenses, wash your hands and pat them dry.
At day's end, remove, clean, and store your monthly lenses. Place a lens in the palm of your hand, add a few drops of contact lens solution, and rub the lens lightly with your index finger to clean it. Then, place the lens in a lens case with fresh contact lens solution and repeat with the second lens. If you wear daily contact lenses, it's much easier to get rid of them.
Just throw them away after each use.
Never share your contact lenses with another person who wears contact lenses.
Insert your lenses before applying makeup.
Only wear your contact lenses for the amount of time prescribed by your optician.
Choosing the appropriate color values for your lenses
To ensure that your contact lenses are comfortable, you need the precise correction values from your contact lens prescription, which include the base curve (BC), diameter (Dia), and recommended lens type. Which color best suits me? Would you like to accentuate your natural eye color? Then you should select a hue that complements your own. Would you like to experiment with a different hue? If you have light eyes, you can experiment with any possible combination.
You can also choose a lighter color if you have dark eyes, but the tint will always be slightly darker. Before purchasing contact lenses, you should always confirm that your passport is current and valid. If you have not had an eye exam or seen your optician in the past two years, you should schedule an appointment. During the contact lens fitting, you will also have the option to test out several shades. This helps you understand more about how the colors look and what they do.
The purpose of colored contact lenses is to accentuate or entirely change the natural color of the iris. There are different colored contact lenses to choose from, depending on how you want to look. How can I determine which colored contact lenses are best for me? The best option depends not only on the desired eye color but also on the natural color of your eyes. Do you have light eyes or dark eyes? Do you desire a drastic change or a natural appearance? There are daily lenses and monthly lenses available for colored or color-supporting contact lenses.
What is the function of colored contact lenses?
The iris-covering rim of lenses is colored. There is no interior tinting, and thus neither the pupil nor the visual behavior are affected. The tint over the iris creates a change in the real eye color. There are durable lenses, trial lenses, colorful models, and multipurpose lenses. This resource provides comprehensive information on contact lenses. For example, we discuss visual aids' forms, types, and types, as well as their structure, effect, and function.
In a healthy eye, the contact lens floats above the cornea and iris in the tear film. Because there isn't enough tear fluid, the tear film breaks, and the contact lenses irritate the surface of the eye.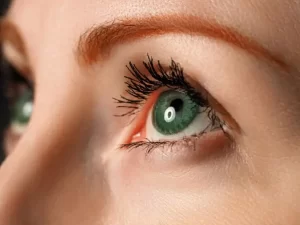 How long may I wear colored contact lenses?
There are colored daily lenses and monthly lenses available. Depending on the type of contact lens and the wearer's specific requirements, the recommended wearing time should not be exceeded, and the suggested liquids should be used for subsequent wetting and cleaning. Caution: Never use a peroxide system to clean colored contact lenses, as this can break down the color pigments and make the lenses useless.
What are the risks of contact lenses?
Rarely, vision-threatening eye problems may occur with contact lenses. However, contact lenses are used in hygienic conditions, under hygienic conditions, and when routine examinations are not interrupted. However, problems are less common in this way. Just as buying glasses randomly without an ophthalmologist, it would be a very harmful and dangerous move to start using the lens without examining the colored contact lenses. In previous years, the fact that lenses were available in pharmacies other than authorized optical stores and hospitals and sold without a prescription may have prepared the ground for this dangerous action. Ordinary colored lenses, which do not match the eye number, eye condition and eye diameter, can impair your eye health, as they are only sprayed on the eye without a prescription. Adding a prescription requirement to the sale of lenses is a solution that eliminates these problems.
For the lenses to get clean, they need to be in the right cleaning solution for at least six hours. 
Are colored lenses naturally changing the color of your eyes?
Even with colored lenses, it is advisable to contact an ophthalmologist or optometrist in order to avoid eye injury caused by the incorrect lenses. Even if there is no vision impairment and you already know your diopter number, the optician or ophthalmologist will measure your eye's diameter and inclination. These variables are essential for selecting the appropriate lenses. Only then is it safe and comfortable to wear contact lenses.
The purpose of color-changing contact lenses is to conceal the natural eye color and create a more stunning appearance. If you want to stand out from the crowd, choose vivid hues such as blue, green, or purple—the perfect complement to terrifying attire. Try on our Misty Gray glasses for a sinister look, or our purple lenses with a witch costume.
You currently wear contact lenses and want to change your eye color. Or do you have no visual impairments but would like to give your eyes a fresh appearance?
With colored contact lenses, both are achievable. They are available with or without starch. Simply provide your diopter values during the ordering process for colored contact lenses with power. Regardless, an adjustment by an ophthalmologist or optician is required. because the base curve and lens diameter must be correct for the glasses to be pleasant to wear. It also protects against potential long-term eye damage.
If you want to discreetly change your appearance, the color-boosting lenses (Freshlook Dimensions) are likely your best option because they improve your natural eye color as opposed to fully altering it. Color-enhancing lenses are typically appropriate for individuals with naturally light eyes. Because the tint is so subdued, it is barely noticeable in dark eyes.
Forms, varieties, and varieties of contact lenses
There is a difference between hard (dimensionally stable) and soft contact lenses. Hard contact lenses are produced from a non-flexible plastic and are placed directly on the cornea's thin tear film. They measure 10 millimeters in diameter. Once the maximum recommended wearing time has been achieved, the contact lenses must be removed. Then, they are cleaned with a chemical made just for cleaning hard contact lenses, and they are put in the eye for a few hours.
trial lenses
daily lenses
weekly lenses
monthly contacts
6 months of lenses
yearly lenses
permanent lenses
Toric lenses
Colored contact lenses
Laser eye color changing is another alternative to contact lenses.
As a result, the use of  colored contact lenses is an aesthetic concern. Of course, it's not entirely innocent. If it is not used well, it causes diseases that will lead to eye loss. It is an apparatus that has certain harmful effects even in normal use. It has been proven that long-term use of colored contact lenses causes significant pathological changes. The artificial appearance of colored contact lenses is a reality that pushes people to seek new methods. At the beginning of these methods is laser eye color change. Today, you can change your eye color in a healthy way without any problems with the mylumineyes eye color change method.