Colored Contact lenses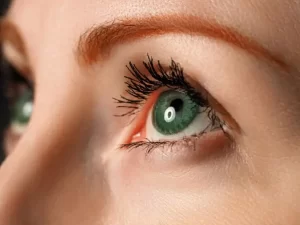 They are designed to stand on the cornea. Mainly sticking to the tear film covering the front part of the eye and a little bit in place with the pressure of the eyelids.
As the eye blinks, the eyelid slides on the surface of the contact lens, causing it to move slightly forward. This movement allows the tears to provide the necessary lubrication and helps to wash away the deposits.
A very tight lens will not move at all. It can create eye sensitivity. The user can be comfortable, but the visual acuity is poor. It may cause complications in the long term.
Too loose lens moves excessively. The lower eyelid lens is a lot of feeling. After blinking, the image is blurred. The lens escapes from the center. Lens edges may curl.
Is there contact lens damage?
rarely, eye problems that threaten to see with contact lenses can occur. However, contact lenses are used on hygienic conditions, in hygienic conditions, and when routine examinations are not interrupted. These problems are less frequent. Just as taking a random eyeglasses without any eye doctor to examine the image and starting to use the lens without lens examination is very harmful and dangerous it will be a movement. In the past years, the fact that lenses were readily available in pharmacies outside authorized optical stores and hospitals, and that they were sold without prescription could lay the groundwork for this dangerous action. So much so that no student was able to buy and use an ordinary color lens that did not fit the eye number, eye condition and eye diameter because it was only squeezed through the eye without the prescription. Making the prescription mandatory in the sale of lenses was a move that overcame these problems.
Result
As a result, the use of contact lenses is an aesthetic concern. Of course it is not completely innocent. If it is not used well, it causes the diseases that will go into the eye loss. Even with normal use, it is an apparatus with certain harmful effects. Prolonged use of contact lenses has proven to have significant pathological changes The artificial image of contact lenses is a fact that makes people search for new methods.