Eye surgery costs in Turkey: Istanbul, Ilasik, No Touch, Trifocal, Retina, Smile Prices
in this page,eye surgery costs in Turkey are given for lasik, no-touch laser, prk, and smile. The cost of "Lasik Eye Surgery in Turkey" varies depending on the procedure and the doctor's experience. As a result,the cost of lasik and smile laser surgery is regulated by the laser technology used and the doctor's skills.Do you also know if the type of material used or whether the blade is zero or not affects the cost of lasik eye surgery? That's why you should be cautious of unreasonably inexpensive Smile, No Touch, PRK, Vision Correction,and Lasik costs.You can find the cheapest but also cost effective Lasik,smile,no-touch laser prices in Turkey.Refractive surgery is a way of repairing or enhancing vision if you have a refractive defect such as nearsightedness (hyperopia), farsightedness (myopia), astigmatism, or presbyopia. By reshaping the cornea, or transparent, circular dome at the front of the eye, numerous surgical techniques can be used to repair or improve your eye's focusing capacity. In some cases, a lens is implanted inside your eye. LASIK and PRK are the most common types of refractive surgery in which a laser is used to reshape the cornea.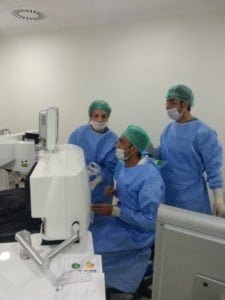 Eye Surgery costs in Turkey
Cataract Surgery costs in Istanbul
Phacoemulsification with :
monofocal intraocular lenses: 950 (one eye)
bifocal intraocular lenses: 2000 (one eye)
trifocal intraocular lenses: 2500 (one eye)
3500 euros for bilateral bifocals, 4000 euros for bilateral trifocals
All lenses are of the highest quality. first quality of Alcon or Amo American lenses. We do not use second-quality lenses or equipment.
Refractive Eye surgeries costs in Turkey ( lasik,smile,no-touch laser cost in Turkey )
Photorefractive keratectomy (PRK) with mytomycin c: 950
The No-Touch laser cost 950 euros.
Lasik keratome surgery costs $950.
iLasik cost 1100 euro
Lasik XTRA  cost 2500 euro
Supracor Near Presby-Lasik for near-far vision correction: 1500
Phakik IOL Implantation costs €2300.
2300 euros for the implantation of a toric ICL
Corneal transplantation costs 6500.
Topo-laser for keratoconus: €2500
Keraflex for keratoconus costs €3000.
 Smile laser surgery cost: 2200 euro
Eyelid eye surgery costs in Turkey
Blepharoplasty (aesthetic eyelid surgery):
a) upper eyelid: 900 €
b) lower eyelid: 1250 €
c) combine (upper+lower): 2100
Ptosis Surgery Price: €2300
Retina Treatments and Surgeries Cost in Turkey
PPV (pars plana vitrectomy/retina detachments, diseas, and holes) operations: 2500
Anti-VEGF injections for macular disease: 700
Diabetic retinopathy complete treatment (lasers+intravitreal inj+tests+angiography): 1000
Glaucoma treatments or surgeries costs in Turkey
4000 euro for Glaukos i-Stent surgery
Glaucoma Filtration Surgery (Trabeculectomy): 2000
SLT (selective laser trabeculoplasty): $900
Strabismus surgery costs in Turkey
strabismus surgeries: 900-1600
Dacryocystorhinostomy (Tear duct blockage treatment): 1100 €
**General anesthesia (consultation with an anesthesiologist, internal mediciner, blood test, ekg, radiology, etc.), single bed for one night = 780 euro
*All operations will be performed by Ophthalmologist Mustafa Mete.
**Prices can change due to the condition of your eyes.