"Mylumineyes Xtra" for dark eyes and lasered eyes
"Mylumineyes Xtra" changes the game now.
People who have undergone laser treatment before or who cannot change their eye color due to dark eyes can now achieve their dreams thanks to "Mylumineyes Xtra". It is essentially a laser treatment for resistant melanin cells. Of course, we started using it on ordinary brown eyes, as the results were faster and more effective.
The minimal energy consumption of "Mylumineyes Xtra" makes it unparalleled. This setting causes "Mylumineyes Xtra" to show the security profile at the maximum level. It eliminates the "threat posed by reverse laser effects" With this best technology and laser, eye color may be change more effectively and with less energy and shot.
We feel that, with this innovative technology and application strategy, we have ushered in the second technological revolution, equivalent to what we accomplished years ago. So, how exactly does this laser change the color of the eye?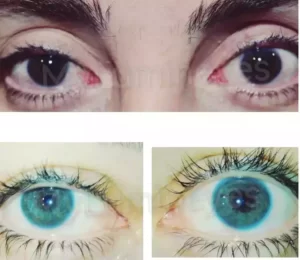 Innovative laser system
maximum performance, strength, and reliability
Imaging with superior resolution
No damage comes to tissues.
Brief laser duration
Excellent efficiency in previously laser-treated, formerly dark eyes
The most effective on light and medium brown eyes.