No-touch, PRK, LASIK, LASEK and SMILE laser eye surgery
Those with myopia up to 10 degrees and those with hyperopia and astigmatism up to 6 degrees are suitable candidates for laser eye surgery. In higher numbers, intraocular lens implantation surgery ( ICL eye surgery ) should be preferred for both patient safety and visual success. No-touch laser is 'Transepithelial PRK'. So it is actually a PRK eye surgery method Excimer laser is a surgical procedure with a very high efficiency and safety, but for laser eye operation, the cornea must be of certain thickness. Unlike LASIK and FLEX procedures performed with femtosecond laser, SMILE laser eye surgery technique is a new surgical procedure used in the treatment of myopia without creating flaps
Refractive surgery by eximer laser known as eye drawing surgery
Excimer laser can be applied to people between the ages of 18 and 60 who do not have a chronic eye disease and have myopia up to 12 degrees, astigmatism up to 6 degrees and hyperopia up to 6 degrees. Excimer laser takes about 15 minutes. Can eye number be reset with Excimer Laser? With PRK eye surgery and iLASIK eye surgery methods, the eye number is usually reset. However, sometimes if the eye number is too high and the corneal thickness is not enough, a little trick can be left behind. Especially in those with numbers above 5-6, the number 1-1.5 may return to some extent within 5 years on average after laser treatment, this situation is called regression. These returned values can be advantageous because they eliminate the need for close glasses in myopic patients.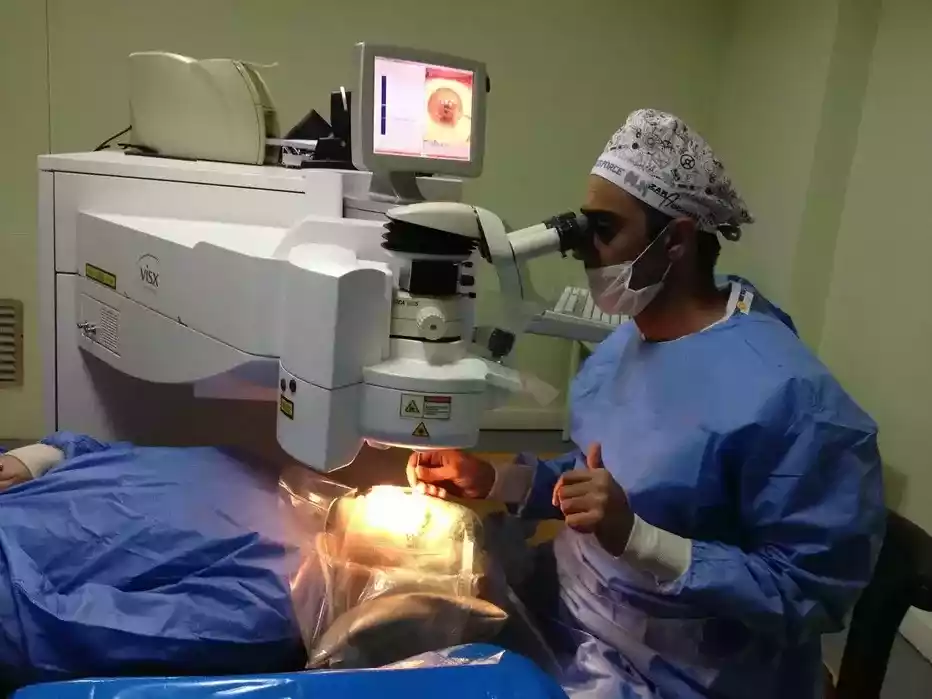 PRK No-Touch laser
In the No Touch treatment, no incisions are made on the eye either "short or long", "with a knife or with a laser". No vacuum is applied to the eye during treatment. A disc-shaped tissue piece is not removed from the eye. In this treatment, laser is applied to the eye without touching the eye, without any device contact. The word no-touch laser is not actually a scientific nomenclature like PRK, LASIK, SMILE. The scientific name of the no-touch laser is 'Transepithelial PRK'. So it is actually a PRK eye surgery method.
Since the cornea is not cut in the TransPrk No Touch laser, this risk does not exist. Even good visual acuity, which remains stable for many years, and the absence of the risk of ectasia, carries itself to a higher point than all other methods. We understand that the No Touch laser is a very safe laser. The safety and effectiveness of PRK eye surgery have been proven. Like LASIK, in the PRK method, the cornea is reshaped with an excimer laser.
In LASIK technique, laser is applied to the deep layers of the cornea under the flap, while laser is applied to the surface in PRK eye surgery. In the treatment of refractive errors, it is the only laser method that treats the cornea without touching it. It is the first choice especially in the treatment of thin and irregular corneas. Since the corneal flap (valve) is not removed, flap-related complications (troubles) are not seen.
No touch laser provides a permanent treatment in the treatment of myopia, hyperopia and astigmatism.
After the procedure, there is no need to use glasses or contact lenses again. No incision is made on the eye in the no touch laser technique. In this way, tissue loss during laser correction is very low compared to other techniques. To whom can No Touch Laser be applied? After a detailed physician control, if the patient's eye structure is suitable for this operation; It is a method that can be applied to myopia, hyperopia and astigmatism patients. No Touch Laser treatment can be recommended, especially for people with a thin corneal structure or a steep corneal level. Especially in patients with thin corneas, No Touch laser is preferred because it protects the corneal biomechanics better.
As a result of a detailed examination, No Touch Laser treatment can be applied to people whose eye structure is found suitable for surgery by the doctor. There is no medical operation with zero risk. Like any operation, PRK laser has risks. Infection may occur after the operation. Non-transparent areas called permanent scars may appear in the cornea.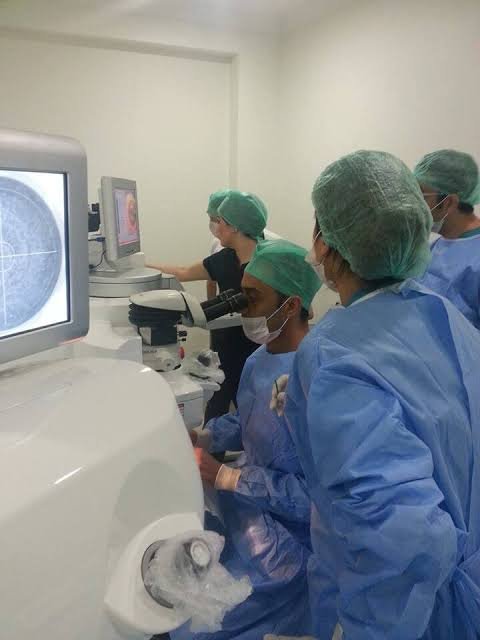 lasik laser surgery
Lasik surgery is called refractive surgery, which is applied to patients who use glasses or contact lenses due to eye disorders to provide clear vision without glasses. LASIK is a surgery to correct eye deformity using laser beams. iLasik is a type of eye laser surgery used in the permanent treatment of various refractive errors. It is widely used for the treatment of vision defects such as astigmatism, hyperopia and myopia, for suitable patients apart from glasses and contact lenses. After the eyes are anesthetized with drops, a valve is lifted in the corneal tissue. Visual defect is corrected by applying Excimer Laser beams to the tissue under the valve. During the operation, which takes about 4-5 minutes for one eye, the patient does not feel pain and returns to his daily life the next day.
Is LASIK a safe technique?
LASIK; It is a surgery that is approved by the US Department of Health (FDA) for a long time, which is famous for being a very harsh institution, and is considered very safe by all health authorities. A recent 102 peer-reviewed review failed to show any significant differences in safety or accuracy of results between SMILE and LASIK. Other studies have shown that SMILE can be more accurate than LASIK. Dry eye is the most common problem after LASIK and almost all patients experience dry eye during the first 3-6 months after LASIK.
LASEK LASER PROCEDURE
LASEK is a form of treatment with laser in order to correct vision defect. The difference between LASEK and LASIK is that no flap is created in the cornea. During the LASEK procedure, alcohol is applied to the cornea. In other words, a flap is created in the LASEK method. The Lasek flap is created manually by applying alcohol to the corneal surface epithelium. The cornea is reshaped with the excimer laser, and after laser treatment, the flap is spread over the flap and a contact lens is placed on it and left to the healing process.
SMILE laser eye surgery
During smile laser eye surgery, a femtosecond laser is used to create a small, lens-shaped incision in the cornea (lenticule). With a small arc-shaped incision, the lenticule is removed, the shape of the cornea is adjusted and clearer vision is provided.
SMILE laser surgery is performed using a patented technology, the VisuMax femtosecond laser, and is FDA approved. Unlike LASIK and FLEX procedures performed with femtosecond laser, SMILE laser technique is a new surgical procedure used in the treatment of myopia without creating flaps. In order to have Smile laser eye surgery, the person must be over the age of 18 and the eye number must not have changed in the last year. Likewise, those with myopic degrees between -1.00 and -10.00 degrees and those with astigmatism degrees.  Not older than -5.00 can have Smile eye laser surgery. After the SMILE laser, the patient complains of mild burning for about 1 hour. The next day, the person can return to his daily life, including swimming, swimming in the pool, and doing active sports. It may take a few days for vision to clear.
Keratoconus, herpes in the eye, retinal rupture occurs in many patients who do not have laser eye surgery and causes vision loss. The most common problems we encounter with eye surgery today are not related to loss of vision, but are often related to dry eye and the adaptation process of the eye.
What is ICL (lens implantation eye surgery)
Phakic intraocular lens surgery-icl eye surgery is a refractive surgery performed on young patients whose eyes are not suitable for laser surgery due to the fact that refractive errors such as hyperopia, myopia and astigmatism are too high to be corrected by excimer laser treatment or because of the thin corneal structure. ICL eye surgery treatment successfully corrects -3.00 to -18.00 diopters of myopia, 6 diopters of astigmatism, and 10 diopters of hyperopia between the ages of 21-45. In this operation, the patient does not have a cataract, his natural lens is transparent and continues to function after the operation. In this operation, the intraocular lens is placed in front of the clear lens, just behind the iris layer. The ICL eye surgery is gently inserted into the eye through a small corneal incision.
Thanks to the excellent flexibility of the lens, a much smaller surgical incision can be inserted into the eye through the incision, allowing faster healing. In phakic intraocular lens surgery, a lens similar to a contact lens is inserted into the eye. Surgery is performed with drip anesthesia. Shortly after this operation, which takes about 10 minutes, the patients continue their daily lives.
Smart lenses
Smart lenses show the intermediate distance in both far and near humidity, eliminating the need for glasses in the patient. As the age progresses, the lens adaptability decreases and they begin to have trouble seeing up close. The smart lens application, which has achieved successful results especially in cataract treatment, saves patients from both cataracts and near glasses. Smart lens therapy is also known as smart lens therapy.
Although laser treatment is the gold standard method in the world to get rid of glasses, it cannot be applied to every patient. There may be various reasons for this. Among the most common reasons we encounter, the eye defect is too high, the corneal tissue to which we will apply the laser is thin or weak.
Advantages of ICL Treatment
It does not cause night vision complaints.
It can be applied on thin corneas.
It allows us to correct all kinds of visual defects in keratoconus patients.
Since a new element has been added (added) to the optical system of the eye, the quality of vision is very high. Much
In many of our patients, the level of vision and contrast sensitivity exceeds the level with glasses or contact lenses.
The most important advantage of ICL eye surgery treatment is that it is reversible. In case of any problem, the placed lens can be removed.
Unlike excimer laser treatments, it does not cause eye dryness.
Contains UV protection