MY®Lumineyes laser eye color change surgery Turkey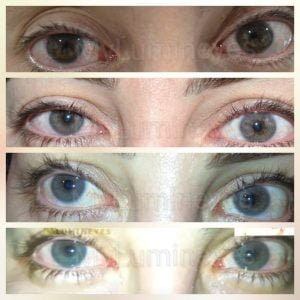 "MY® Lumineyes" is a specially applied Lumineyes technique. In short, with a laser with special abilities, brown or dark pigmented cells in the iris are stimulated by laser, poured out of the dark pigment layer to form a pale blue-green-gray- is the process of making the color adjustment of the heterochromic eye and the patient with the difference of the tone in the eye by making this cell layer appear to be mainly colorless but appear colored from the outside.
While developing disease pathways that differ in color between the two eyes called heterochromies, they started to work on a laser with a special wave-length, different mechanism of action, resulting in long-term follow-up and development leading to the development of current methods
Lumineyes technique has been explored in 2011, and many research centers are still working with us. Classic Lumineyes are used in countries like Spain, America, Panama. There are disadvantages according to Mylumineyes.
MY®Lumineyes has been developed as a more effective, safer, more controlled method with different SPECIAL (laser ratios, technique, different wavelength, selectivity, etc.) according to the Classic Lumineye method. The success rate is 99%.
Result
This operation is carried out using a new laser, which has different frequencies and wavelengths that are developed differently, have an impact on the microscopic level, and do not harm the surrounding tissues.
After completing the examination, many factors are evaluated by your doctor. After special drops and preliminary preparation, laser shots are made to the special cell area for a total of two minutes 1-2 minutes using a special technique for the person, eye color, effect size, safety parameters, cellular reaction and according to some conditions the frequency, duration, wavelength, energy etc. of the sessions are adjusted to create customized programs for the sessions.
The long-term results show that MY®Lumineyes technique is safe and that we have successfully managed this with our efficient specialists. The method we have developed is safer, more effective and trouble-free than the classic lumineyes technique.
"Mylumineyes" is the safest and effective way for eye color laser change in world.Mylumineyes techniques is only in our clinic in world! amateur places, wrong clinics, fake doctors and those treated by low prices with the normal laser, which are not suitable for iris pigmentation unsafe wavelength, can damage your eyes ….
Your eyes are more valuable than your money !!
We make various packages for patients, including additional services, you can get color and have holiday in beaitful istanbul at the same time.