How to change your eye color?
How to change your eye color? To change your eyes color, we use a laser that works at a special wavelength, different from all other lasers. The answer to the question of what is laser eye color change is simply the reduction or elimination of the upper melanin pigment layer of the iris with the Mylumineyes 8G+ laser. If you pass the consultation and your conditions are suitable, laser shots lasting about 1-2 minutes are fired. The superior method of MyLumineyes® is only done by Dr. Mustafa Mete. How to changing your eyes color naturally?
We turn dark colors into a colorful structure with a very safe laser and programs suitable for the person's structure.
The surprising thing is that you do not feel any pain or discomfort during this time. In other words, another answer to the question of what is laser eye color change is that it is the conversion of the brown area that gives your eye its color to green or blue tones. Today, different methods are applied to change the eye color. Undoubtedly, the only "Mylumineyes" that give natural and healthy results.Surely it is necessary to aim for natural results. To give an example of  change your eyes color in general, you can connect with the logic of laser epilation. Just like laser epilation protects the skin, Mylumineyes works by protecting other parts of your eye. This is all about the experience of the ophthalmologist and the quality of the laser.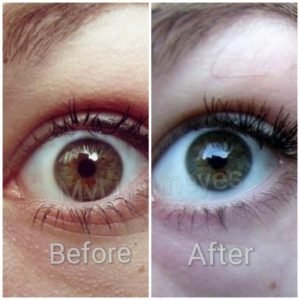 So what happens now that the session is over?
When the session of the laser eye color change procedure is over, we will give you some medications. Definitely, these are very important for both your health and the effectiveness of the procedure. Another important point is that your doctor does your follow-ups very well every day. Although it is an easy procedure, some examples we have seen show that this procedure is extremely harmful in the hands of bad or fake doctors.
MyLumineyes®, the inventor of the laser eye color change surgery, uses a personalized diagnosis and treatment program for each different feature of the eye structure.
The wonderful thing is that we have not experienced any major complications for over 12 years. This shows that MyLumineyes® is the safest way and method to change eye colors and remove iris pigments.
Above, a British lady comments on a true laser eye color change. After a short therapy period a year ago, you will see a dramatic change from dark brown to light green eyes. It is a picture taken on its own camera and sent to us while maintaining 100% originality.
Remember, this process is very serious! Stay away from unqualified places!
Your eyes are important. We treat them, but at the same time, protect their health.In addition, we would like to state with peace of mind that we know how to change the eye color. Moreover, we do not even create any side effects while doing this. So our advice to you is that if you have decided to change the color, you should research very well who you will go to.
Laser eye color changing is an art and should be done by an expert.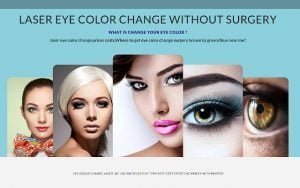 Get our free Chrome extension for news and updates.